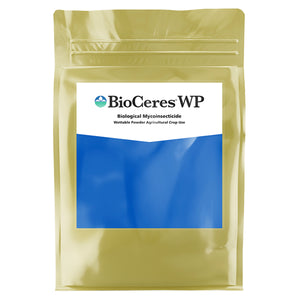 BioSafe BioCeres WP 1Lb OMRI
BioCeres WP is an insect-pathogenic bio-insecticide using the Beauveria bassiana fungus. The OMRI Listed ANT-03 strain is approved for organic production and is perfectly suited in IPM programs, in a tank mix with other pesticides as well as specific, stand-alone use.
BioCeres WP is used for the biological control of numerous pests including whiteflies, aphids and thrips by adhering to and penetrating the insect's exoskeleton, causing death. It can be used in a wide range of crops as well as ornamental plants and edibles.