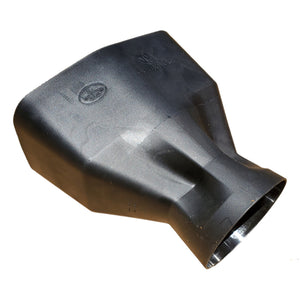 The Bud Funnel is a simple inexpensive funnel device that makes bagging your bud easy: The Bud Funnel. Designed so a vacuum seal bag fits right over the outlet, but also works well with turkey bags. Patented handgrips make it easy to hold the funnel with either hand.

The patented design includes built in handles that allow you to grasp the funnel and bag at the same time, making it easy for one person to fill bags fast without spilling your product on the floor. Made with thick durable recycled plastic this funnel will be saving you time for years and years.

Designed to fit perfectly with standard vacuum seal bags, The Bud Funnel helps keep the top 3 inches of your bag clear from pollen and other small particles and helps you get that perfect seal every time. The Bud Funnel also works great with turkey bags.