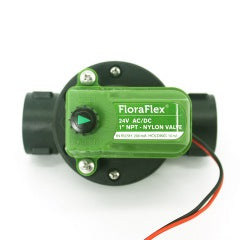 The Patent Pending FloraFlex® Nylon Valve 2.0 allows you to break sections of your garden into zones to maintain optimum and consistent feed. Choose from 3/4 or 1 inch diameter.
Patent Pending - On, Off and Automatic setting with easy to use lever.
Female pipe thread inlet and outlet inline irrigation valve
24 VAC Solenoid
GPM: 0.5-44
Pressure: 15-150 PSI (1.0-10.3 bar)
Available in 3/4" and 1"